The Myobrace | The Braces Prevention System
The preventative, pre-orthodontic treatment that identifies underlying causes of crooked teeth before they appear 
What is Myobrace?
Hove Dental are now offering patients the Myobrace system; a preventative pre-orthodontic treatment that focuses on identifying underlying causes of crooked teeth before they appear. The Myobrace system helps patients achieve natural tooth development without the need for braces or teeth extraction.
The treatment involves wearing a series of removable intraoral appliances that are worn for 1-2 hours a day and while you sleep. This type of treatment is primarily suited to children aged from 3 to 15.
How Does Myobrace Work?
Traditionally, children must wait until all their permanent teeth have come through before braces can be applied. However, in some cases, this can lead to irreversible damage to the child's mouth. This may not only affect their teeth, but the development of their mouth and general oral health.
Identifying abnormal teeth development early is essential, in fact, we are now able to identify oral health problems in children as young as three years old.
The Myobrace does exactly that, it has been specifically designed to promote healthy oral development before braces are even a thought. The Myobrace appliance looks to teach children how to:
Properly breathe through their nose
Rest their tongue correctly in the roof of their mouth
Swallow correctly
Promote proper jaw growth and development (widening the jaws to help them grow to their natural size)
The resulting process allows for healthy oral development, allowing the teeth to come in a natural alignment and often without the need for braces.
The Benefits of the Myobrace System
In a slightly similar process to teeth straightening systems like our Smilelign system, Myobrace uses a series of removal intraoral aligners that are non-invasive and easy to wear. The system gently shifts and repositions the arch-form, aligning the teeth and jaws into their natural positions.
The benefit with intraoral aligners is that they only have to be worn for 1-2 hours in the day and while you sleep. This is a far more appealing option for children and young teenagers who are not looking to wear braces or teeth straightening appliances all day, every day.
Myobrace Activities
There is also a patient education programme knows as 'Myobrace Activities'. This is a simple guideline programme that encourages children to partake in daily mouth exercises to help further their oral development.
The 'Activities' are simple and easy to perform and only need to be performed twice a day while wearing the Myobrace system. These Myobrace exercises include breathing, tongue, swallowing, lip and cheek exercises.
Separate appliances can also be used depending on the child's individual requirements. This can be discussed further during your consultation with our friendly team.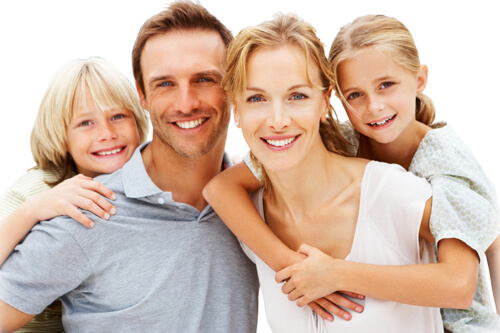 The Four-Step Myobrace Treatment Process
The Myobrace process can be filtered into a simple four-step process:
Step 1 – Correcting the Habit
The first step on the Myobrace journey is teaching your child to breathe through their nose instead of their mouth. This involves learning to place the tongue at the roof of their mouth, swallowing the right way and ensuring their lips are kept together when they aren't eating or speaking. Continuing with bad habits will increase the likelihood of crooked teeth or malocclusion regarding their future oral development. Prevention is far better than a cure and by teaching children to reposition their mouth accordingly, it is far less likely they will require braces later in life.
Step 2 – Arch Development
After learning to correct bad habits, arch development should come naturally. However, it is not uncommon for children to require additional appliances to help straighten and correct their jaw position. In combination with the Myobrace System, we may recommend other jaw development systems to speed up the treatment process. This is something that can be discussed with our principal orthodontist during your consultation.
Step 3 – Achieving Alignment
Nearing the end stages of your Myobrace journey, Myobrace for Teens will be likely to applied to help finalise your teeth alignment.
Fortunately, Myobrace for Teens System come in a series of removable aligners, perfect for teens looking to adopt a more discreet teeth straightening system. However, to achieve optimal results, your child must wear the aligners every day and overnight while sleeping. If your child strictly follows the treatment process, they may minimise the need for braces after their Myobrace course has ended.
Even if braces are required post-treatment, it is very likely that they will only be required for a short space of time.
Step 4 – Retention
The final stage of the four step process is maintaining your results. This is easily done by following simple oral hygiene routines and wearing a retainer after your Myobrace for Teens System. Following our simple aftercare routine will maintain your results and will see your oral health and development continue.
FAQ
Q. What's the Difference Between Myobrace and Braces?  
A. Myobraces are a preventative pre-orthodontic treatment that focuses on identifying underlying causes of crooked teeth before they appear. The system essentially helps children to break bad habits using a series of tongue, lips, jaw and teeth exercises.
Braces, on the other hand, typically look to rectify issues such as crooked/crowded teeth and malocclusion to reposition and correctly align a patient's teeth. There are a variety of braces options, all of which work in different ways to help straighten your teeth. Smilelign is a teeth straightening solution that we offer at our clinic. For more information on this, please visit our Teeth Straightening page.
Q. Is Myobrace Just for Kids? 
A. While Myobrace has been specifically developed to help improve and develop children's oral health, there is a version available to adults. The Myobrace for Adults System follows a similar four-step system, in that the appliances correct bad oral habits while at the same time, applying gentle pressure to mould you mouth shape.
Alternatively, if you're looking for a different teeth straightening options, we also offer our Smilelign System, which can be found under our Teeth Straightening page.
FAQ
Q. How Long Until I See my Myobrace Results? 
A. As every patient will undergo a different treatment process depending on their individual requirements, predicting treatment time is difficult. Typically, treatments can last anywhere from six months to two years.
Q. How Much Does Myobrace Cost? 
A. The cost of your Myobrace treatment will depend on your personal requirements. In most cases, the cost of Myobrace is not too dissimilar to braces. However, an exact price can be discussed during your consultation at our clinic. You cannot buy Myobrace online as a consultation and oral assessment is required.
Myobrace Assessment: £55.00
Myobrace System: From £1,200
Book Your Consultation Today 
Myobrace is currently being used in over 100 countries and continues to offer an effective solution to children with crooked or overcrowded teeth. Our friendly team will ease you through the Myobrace process and answer any questions you may have regarding the system.
Please do not hesitate to get in touch with our friendly team today to find out more on how Myobrace can transform your child's oral development and even change their life.
Call, email or visit us at our clinic in Hove. 
"This is an outstanding dental practice. The whole team are professional and warm, from reception through treatment. Most importantly Dimitri Mantzis is a brilliant dentist. I am really happy to have discovered this place."

Treatments
• Cosmetic
• Restorative
• Teeth Straigntening
• Implants
• Preventative
Opening Hours
Monday: 08:30 - 18:00
Tuesday:

08:30 - 18:00
Wednesday: 08:30 - 18:00
Thursday:

08:30 - 18:00
Friday: 08:30 - 18:00
Saturday: By Appointment
Sunday: Closed