Teeth Straightening in Brighton & Hove
Cfast – Fast, Effective and Affordable Teeth Straightening Solution
What is Cfast?
Cfast is a brace loosely designed in traditional fixed braces to help gently move your teeth into their new, correct positions. This type of brace specifically targets the top and bottom front teeth and can help level and round-out the arches. They are less invasive than fixed braces and in some cases, straighten teeth twice as quick.
They are an ideal tooth straightening solution for patients who require minor adjustments. This is what makes the treatment swift, painless and effective.
Fixed Braces by Cfast
Hove Dental are now offering Cfast clear braces to patients looking for teeth straightening solutions.
Cfast's clear braces offer an innovative take on traditional fixed braces by combining a discreet design with exceptional results. In most cases, patients can expect to wear traditional fixed braces for up to two years, whereas Cfast can offer teeth straightening solutions in as little as eight weeks.
While Cfast is a fantastic solution to crooked teeth, it should not be seen as a direct replacement for conventional orthodontic treatment. Instead, the braces look to correct minor problems quickly.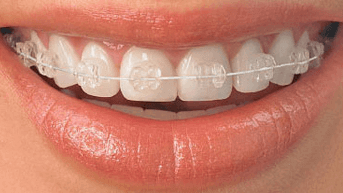 Braces and Cfast
Cfast clear braces separate themselves from traditional fixed braces by their transparent and therefore discrete design. They are made up of clear brackets and tooth-coloured wires positioned across the surface of your teeth (much like standard fixed braces).
The Cfast system is designed to blend seamlessly with your teeth. You do not have to worry about difficulty eating or brushing thanks to their innovative design.
How Do They Work?
Cfast clear braces work similarly to traditional fixed braces, in that they gently reposition your teeth using a combination of wires and brackets. The nickel titanium wires clip onto the tooth-coloured brackets, which are then gently pulled into their desired positions. The wire will naturally want to straighten itself, which in turn, will slowly reposition your teeth.
The main difference with the Cfast treatment is that the system focuses on the "social six", which are the front teeth that most influence the smile, the invisible aligners are able to transform the appearance and functionality of your smile.
The Benefits of Cfast Clear Braces
The clear braces come with three main benefits:
Fast results – the average treatment time for Cfast clear braces is just five months. Some patients may experience their final results in just eight weeks, but this depends on each patient's individual requirements.
Discreet appearance – one of the main benefits of Cfast is its discreet appearance. The wiring and brackets are transparent, making them difficult to notice.
Affordable prices – unlike traditional fixed braces that can be worn for as long as three years, Cfast offers a far shorter treatment time. In some cases, you may only have to wear them for as little as five months, meaning faster results at affordable prices.
Should I Get Traditional Braces or Cfast Braces?
If your teeth require serious realignment, then Cfast may not be the appropriate option for you. While they are very successful at realigning the "social six", fixed braces are preferred regarding serious orthodontic cases.
Traditional braces are better suited for moving the teeth and jaws into a new position to help improve your bite and chewing. Cfast, by comparison, primarily focuses on aesthetics.
However, every patient is different and will require dental care tailored to their individual needs. Visiting our clinic and speaking to our experienced team will help you make a decision regarding your journey to achieving straight teeth.
Can Cfast Treat Bruxism?
Our team offer restorative solutions to help battle the aches and pains of bruxism. Arranging a consultation with our friendly team will help alleviate any concerns associated with bruxism. The condition itself may not necessarily require treatment, but we do offer occlusal appliances to help protect your teeth from grinding at night. For more information on how we can help treat bruxism, visit our Restorative page.
"This is an outstanding dental practice. The whole team are professional and warm, from reception through treatment. Most importantly Dimitri Mantzis is a brilliant dentist. I am really happy to have discovered this place."

 Treatments
• Cosmetic
• Restorative
• Teeth Straightening
• Implants
• Preventative
Opening Hours
Monday: 08:30 - 18:00
Tuesday:

08:30 - 18:00
Wednesday: 08:30 - 18:00
Thursday:

08:30 - 18:00
Friday: 08:30 - 18:00
Saturday: By Appointment
Sunday: Closed