Porcelain crowns are designed to restore your teeth to their former, natural appearance. Unlike metal-based crowns, porcelain crowns focus on the aesthetic benefits as they're designed to resemble your existing teeth, which is particularly important if you require a crown on your front teeth.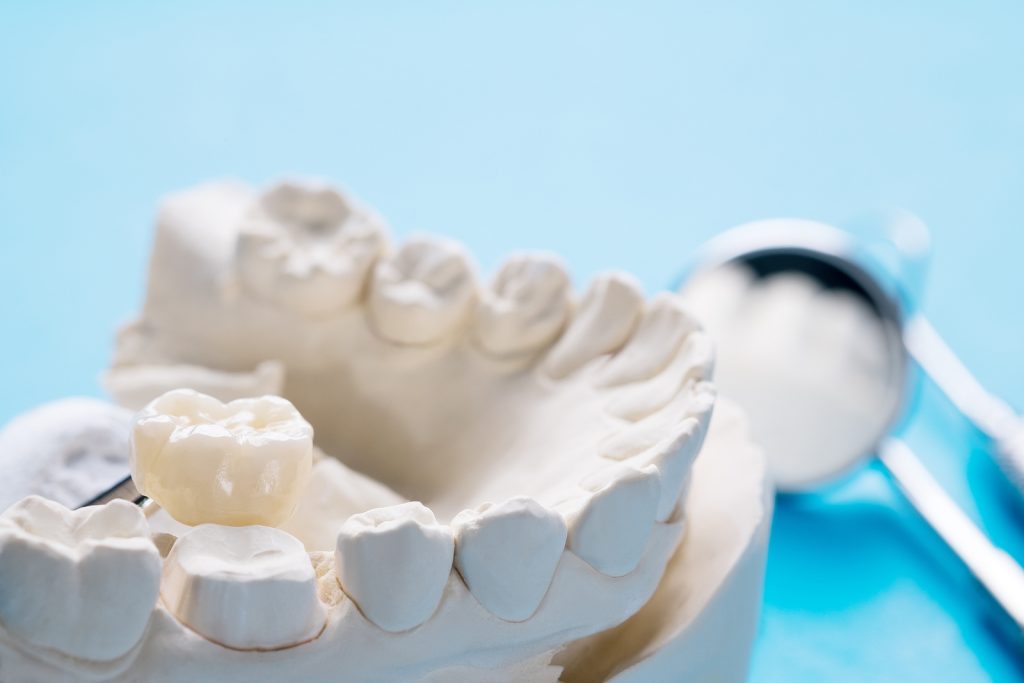 Why dental crowns are needed
Patients who have suffered from tooth decay or whose teeth have become damaged through trauma may need a dental crown to protect and repair their affected teeth.
You may want to consider a porcelain crown if you:
Have recently suffered an injury to your tooth
Require an anchor for a dental bridge
Want to reshape a crooked tooth (to enhance your smile)
To replace a large filling that has come loose or fallen out
To protect a tooth after a root canal procedure
Essentially, porcelain crowns serve the same purpose as other metal-based crowns; to protect the tooth and provide a strong, long-lasting replacement and functional replacement for a natural tooth.
What is the porcelain crown treatment process?
In most cases, porcelain crown treatment takes two appointments. This is because the ist visit focuses on preparing your tooth for the porcelain crown to be fitted. This involves identifying and removing any weak parts of the tooth and taking impressions to fit a temporary crown.
Your second visit (which is typically two weeks later), will see your temporary crown removed and your new custom-made crown fitted.
What is a porcelain jacket crown?
A porcelain jacket crown is typically used to cover the entire surface of the affected tooth. As the name suggests, jack crowns are used to cover and protect affected teeth from the risk of decay or further damage to the tooth. The main difference between jacket crowns and veneers is that jacket crowns typically cover the whole tooth, whereas veneers are bonded to the front of your teeth and are around 1mm thick. Jacket crowns are better suited to anterior teeth
Metal vs porcelain crowns
Metal crowns are typical made from cobalt-chromium, nickel-chromium and other metal-based alloys. Metal crowns have been used in dentistry for a number of years and are renowned for their durability. They are the least likely to wear down over time or become chipped/damaged in contrast to porcelain crowns. Most people choose to have metal crowns at the back of their mouth (posterior teeth) as they are out of sight.
Porcelain crowns, on the other hand, are designed to mimic the natural appearance of your teeth and come in two main forms: all-ceramic or all-porcelain. Both can be used for posterior and front teeth and provide a safe solution for patients who suffer from metal allergies.
Should I get an implant or a crown?
This depends on the nature of your tooth's condition and the advice given by your dentist.
A dental implant is an artificial or prosthetic root that serves the same purpose as a natural tooth root. The implant is placed into your bone, where the root would be, and used with your jawbone to ensure a long-lasting and secure fit. Your implant essentially acts as a foundation for your dental crown. Together, they combine to replicate the function and appearance of a natural tooth.
However, while a crown can replace part of a damaged tooth, it will not be able to replace a full tooth without the use of an implant.
Before and after pictures of porcelain crown application
Below are some before and after pictures of porcelain crown procedures.
Are porcelain crowns safe?
Both the procedure and the materials used to construct porcelain crowns are safe and are FDA-approved. As with any dental treatment, there are always risks and sometimes complications, but porcelain crown treatments are routine procedures and our staff have a wealth of experience in this area.
Book your appointment for a porcelain crown
If you have a persistent tooth problem, it's always advised you seek the advice and care of a dentist. While the problem may be minor, booking an appointment could save you a small fortune in extensive treatment in the future. Our team will be able to say whether or not you require a dental crown, and we'll help you choose what material is best suited for your requirements.
FAQs:
What are PFM crowns?
PFM crowns stand for "porcelain-fused-to-metal", and combine the benefits of metal crowns (durability) with the aesthetic advantages of porcelain crowns.
Will my dental insurance cover porcelain crown treatment?
This depends on what is covered on your dental insurance, as all dental plans and insurance policies are different. However, through our practice plan, you can save money on a range of dental treatments, as well as receiving a five-year guarantee on all-ceramic restorations.
To learn more about the discounts you will receive through our clinic, please contact our team today.
How much do porcelain crowns cost?
The price of each treatment depends entirely on the extent of your requirements. For example, the size and shape of the crown you may require is based on how damaged your tooth is, you may also require more than one porcelain crown. For prices for porcelain crowns at Hove Dental Clinic can be found on our fees page here.
Are there any common problems associated with porcelain crowns?
Porcelain crowns are designed to last anywhere from 5 to 20 years. However, they are not as durable as metal or PFM crowns, so it's important to ensure you take care of your dental crown. Following a simple dental hygiene routine is all that's required when taking care of your porcelain crown. This involves brushing, flossing and avoiding sugary foods and drinks.