Gold crowns have been used in the dental industry for hundreds of years and are still able to provide durable and long-lasting solutions for damaged teeth.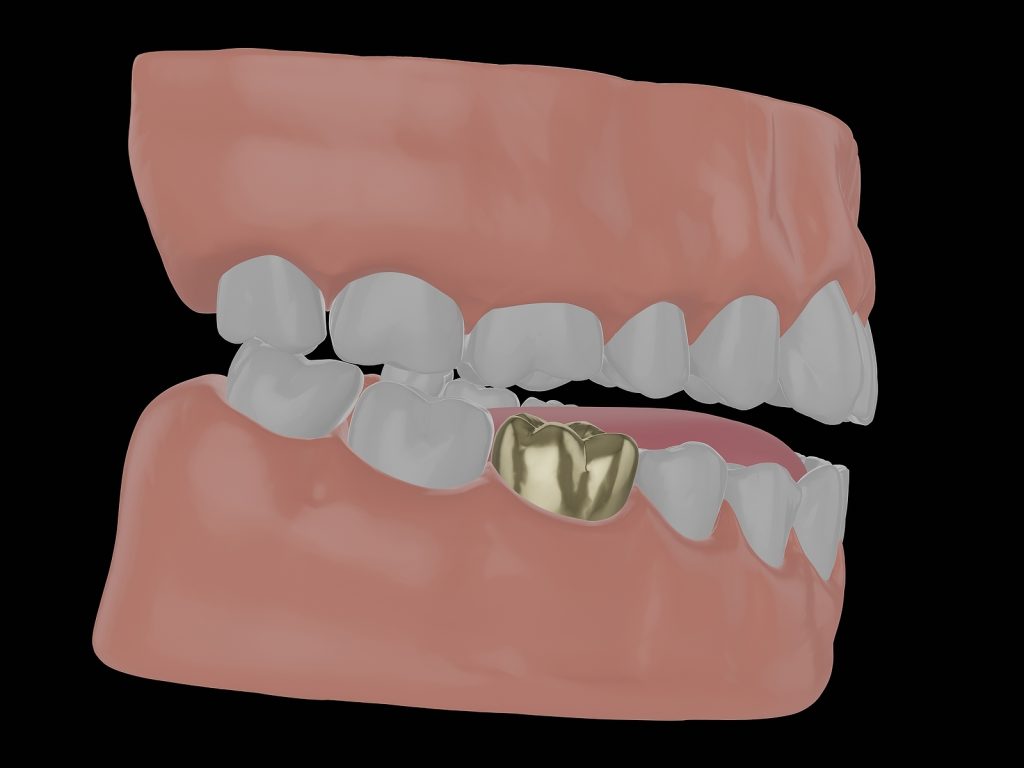 What is a gold tooth crown?
Gold tooth crowns work in exactly the same way as any other tooth crown. They are used to cover a part of the tooth that has become damaged and is at risk of infection. There are a number of reasons you may require a crown, for example:
A breakage in your tooth
Decay
Requiring a root canal
Or a large filling
Modern crowns are also used to improve the appearance of your teeth. Gold crowns are obviously less subtle than porcelain and in today's market are usually used for decorative purposes.
Combining gold crowns with other metals
Combining gold with other metals to form a strong and lasting tooth crown is common practice in dentistry. Gold crowns fall under the category of metal crowns, and you have the choice of a full gold crown, or a PFM crown (porcelain fused to metal).
For patients wanting gold crowns, there are three options:
Non-noble alloy – made from less than 25% precious metals, non-noble alloy is made from nickel, chromium and gold.
Noble alloy – contains 25% precious metal, again, nickel, chromium and gold.
High noble alloy – this type of crown is made from a minimum of 60% precious metals, including gold, platinum and palladium.
Gold crowns and porcelain crowns
Gold remains one of the oldest tooth repair solutions in dentistry and is still used today because of its durability. While gold crowns are rarely used in modern dentistry (unless for aesthetic reasons), gold components are used in combination with other metals, including nickel, chromium and palladium.
Porcelain is the preferred crown treatment for several patients because the crowns are designed to mimic your natural tooth colour. However, porcelain crowns are not as durable at gold, which leads patients to consider PFM (porcelain fused to metal) crowns as they combine the durability of gold with the natural aesthetics of porcelain crowns.
It's worth noting that PFM crowns are typically more expensive than both gold and standard porcelain crowns.
Benefits of gold tooth crowns
The main benefit of gold crowns is their durability. Gold or any metal-based crowns are able to withstand large amounts of pressure from chewing. Gold and metal crowns are also very helpful for people who exhibit heavy wear patterns on their teeth.
Due to their durability, they are less likely to crack, snap or become brittle over time, meaning they are very cost-effective as replacements are rarely required. In most cases, the only time you will need a gold crown replaced is when the tooth underneath has become susceptible (from trauma, injury or decay). While the crown is very unlikely to break, it can become loose over time, especially if you experience injury and are eating hard foods that can damage tooth crown positioning.
With regards to wearing on adjacent teeth, gold crowns typically cause as much wear as a natural tooth would. This is particularly good for patients who grind their teeth regularly or suffer with bruxism.
Side effects to gold tooth crowns
Side effects relating to gold tooth crowns are very rare, but there are some instances where they can cause:
Swelling and redness
Lesions in the mouth
Allergic reactions to metal (specifically gold-nickel alloys)
Allergies to metal
One of the main side effects of gold or metal-based crowns is allergies. Some people have mild to severe metal allergies and it's important that you inform your dentist if you suffer from a metal allergy before gold crowns are considered. Allergic reactions from metal-based alloys can include dryness of the mouth, itching, flaking and in more severe cases, blistering.
Where are gold tooth crowns typically placed?
Gold tooth crowns can be placed on any tooth that's been damaged through decay, breakage or general trauma. In most cases, however, gold tooth crowns were used placed over molars at the back of the mouth, as they are less visible and therefore more subtle. Gold crowns are rarely used on front teeth because they're far more noticeable. Porcelain crowns are now more popular and can be used on any tooth as they're designed to match your natural tooth colour.
How much do gold tooth crowns cost?
Tooth crowns in the UK typically cost over £745 with a private dentist and approximately half that on the NHS. If you are considering or require a gold crown, you can explore our private charges page to find out our prices.
What happens if my gold tooth crown falls out?
If your gold tooth crown falls out, it's important that you keep the now exposed tooth protected until you are able to see a dentist. If you are able to slip the crown back on, if the crown fits, combine it with dental cement to hold it in place temporarily. You will not be able to fix the problem yourself, dental intervention is required to professionally fix the crown back onto the affected tooth.
Do you require crown treatment?
If you have been told by your dentist that you require a tooth crown or you feel as though you may need one, Hove Dental Clinic is able to provide affordable, private dental treatment. Arrange your free consultation today to have our Principal dentist assess your tooth structure and identify whether or not you are a candidate for a gold or metal-based tooth crown. 
Keep on top of your oral health today and book your appointment today.