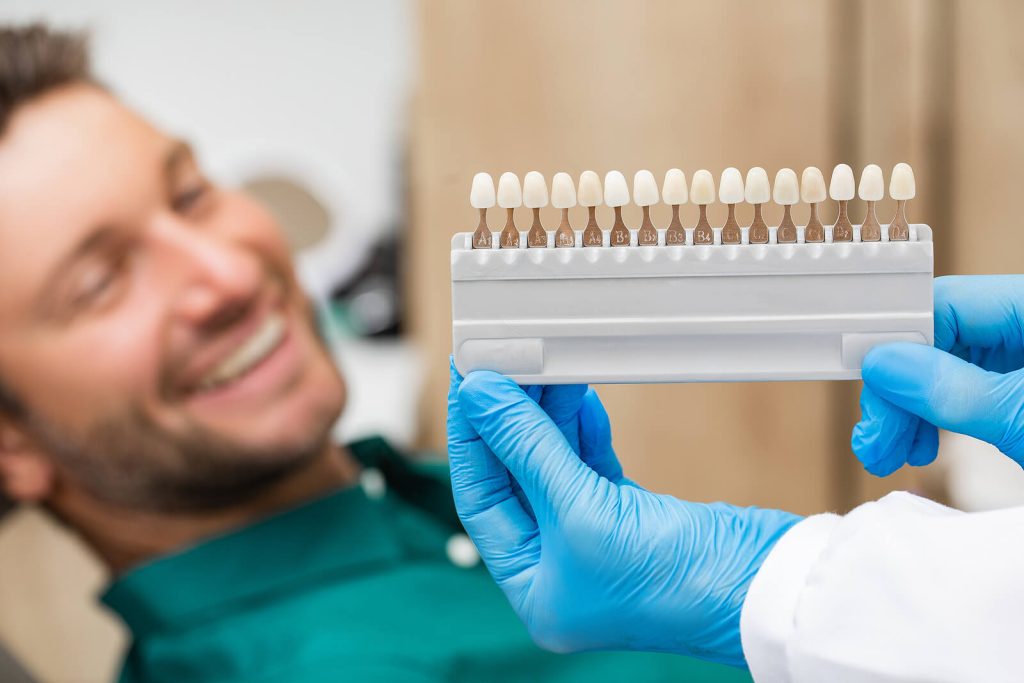 What is a front tooth crown?
A front tooth crown is essentially an artificial tooth that provides protection to a partially damaged tooth. Front tooth crowns are usually around 2mm thick and typically made from porcelain to mimic the appearance of your surrounding, natural teeth.
What are front tooth crowns used for?
As briefly stated, single tooth crowns are implanted to cover and protect what remains of your natural tooth. Through accident, injury or decay, your teeth can become damaged and will require protection and reinforcement. Tooth crowns offer a permanent solution to protect your teeth from bacteria and return functionality to eating and drinking.
Front tooth crowns placement is used to cover and protect teeth that have:
Been discoloured through bad eating and drinking habits
Become damaged through accident, injury or decay
Become weak
Or are crooked
What is the difference between a front tooth crown and a veneer?
While both single crowns and veneers are used as restoration methods for damaged teeth, they do serve different purposes. Dental crowns cover the entire tooth, whereas veneers only cover the front of your tooth. Both methods of restoration have great success rates but it's important to speak to your dentist to decide which is best and most cost-effective for you.
What is the front tooth crown procedure?
The procedure can be performed on the same day or across several days depending on the condition of your tooth. We'll start with the same day procedure process:
Same day front tooth crown process:
Your dentist will begin by identifying the problem area of the tooth (cavity). Then, they will take digital pictures of your mouth and scan then use them to create a crown in their clinic. This creation process typically takes between one and two hours, and you will likely have to wait in the clinic while your front tooth crown is being created.
After your crown has been created, your dentist will ensure it matches the colour of your natural teeth and then fixes it into place using dental cement. The process from start to finish typically takes between two and four hours.
Multi-day front tooth crown procedure:
In most cases, you will only need to take two trips to your dentist's clinic for multi-day procedures. In their first instance, your dentist will identify the cavity and prepare it for crown creation. X-rays may be used as well as taking moulds of your tooth beforehand.
Next, they will begin filing the outer layer of your tooth. Then an impression is made of your filed tooth and the surrounding teeth. A temporary crown is then created and pace over your filed tooth to protect it for around two to three weeks.
You will need to return for a second visit to have your permanent single crown placed.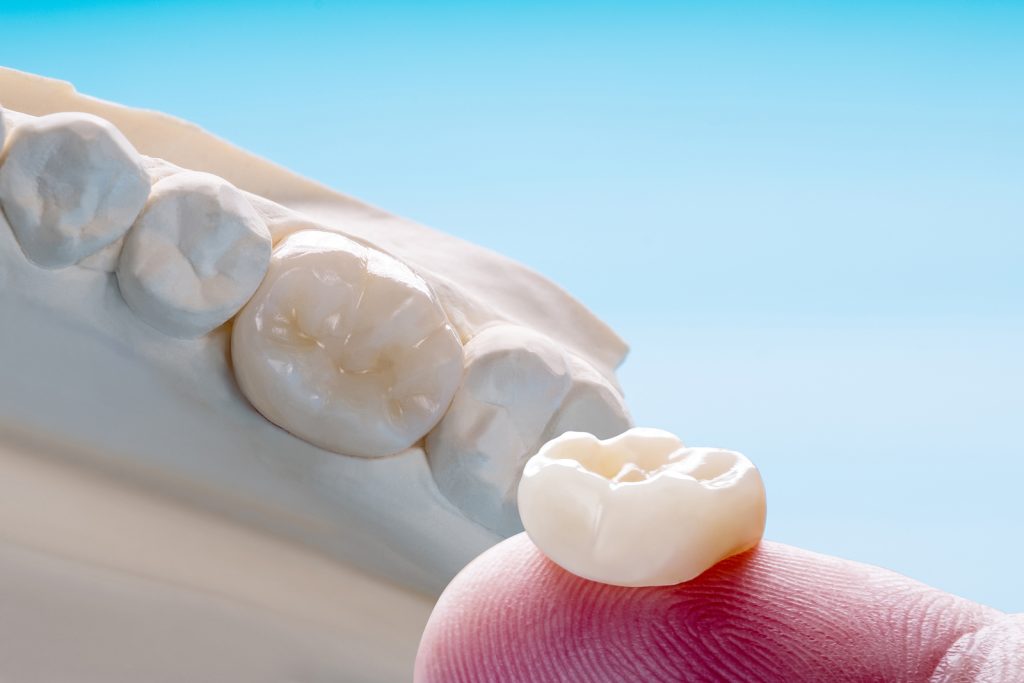 What types of front tooth crowns are available?
There are a number of different types of tooth crown to consider depending on your personal preference and requirements. Some tooth crowns are designed for durability, others aesthetics and some are a mixture of both. In most cases, front tooth crowns are made from porcelain or PFM (porcelain-fused-to-metal) because they offer a natural tooth appearance. Metal and gold crowns are typically used on back teeth (molars) as they're out of sight and far more durable than porcelain.
Ultimately, it's up to you what type of front tooth crown you choose. For a more detailed guide, please read our article on The 7 Different Types of Dental Crowns.
How much does a front tooth crown cost?
Front tooth crowns differ in price depending on your personal requirements and the type of crown you're looking to have. For a full breakdown on front tooth crown costs, explore our article on dental crown costs or visit our private charges page.
Do you need a front tooth crown fitted?
If you feel as though you're a candidate for a front tooth crown, why not book a checkup at our clinic in Hove? Our team specialise in affordable, long-lasting dental implants that restore your smile. Call or contact us via our contact form to get started.
---
FAQs
What happens if my crown doesn't fit?
You will be able to notice if your crown doesn't fit for a few reasons. You bite may feel misaligned and cause discomfort or trouble when eating certain foods. If you experience pain in your crown a week or more after your procedure, it may be that your crown has been poorly placed and a gap is present, leading to nerve pain and the chance for bacteria to develop inside. In either of these cases, when a front tooth crown doesn't fit, you will need to return to your dentist in order to have it adjusted. 
How long do crowns last on front teeth?
Front tooth crowns are designed to last a long time, anywhere between five and twenty years. However, the longest of your crown can fluctuate based on a number of factors. Maintaining a high level of oral hygiene should see your crown encounter no problems, as regular flossing and brushing should keep any threat of bacteria and decay away. Some crowns will last longer than others, for example, gold and metal-based crowns will last longer than porcelain crowns. For something in-between, a popular choice is PFM crowns, which comprise a metal interior and a porcelain exterior. 
What happens if I lose my crown or it becomes loose?
Although it's uncommon for patients to lose their crowns, it can happen through accident and injury. If you lose your crown, you need to visit your dentist as soon as possible to get a replacement fitted. Failing to do this will cause damage to your tooth and may lead to infection and serious discomfort. If your crown has simply become loose, you will need to revisit your dentist to have it tightened or fixed. Replacement is only necessary when the crown has become badly damaged.