Invisalign Braces in Brighton and Hove
You can now straighten your teeth discreetly with Invisalign. A great alternative to fixed metal or clear braces, Invisalign gives you a discreet and comfortable way of perfecting your smile. Invisalign is one of the most effective orthodontic treatments we provide. It can take as little as 6 to 16 weeks to fully straighten your teeth, compared to anything from 6 months to 2 years for other forms of braces.
What is Invisalign?
Invisalign is a modern and discreet solution to straightening your teeth without the need for wires. These clear, durable, and smooth plastic retainers are custom-moulded to your teeth for an accurate fit. Every two weeks, your aligners will be exchanged for straighter pairs that will slowly move your teeth into the desire positions.
Removable clear aligners and address problems including unevenly spaces or shifted, gapped and/or crowded teeth by gently moving them. Designed for a precise and accurate fit onto the teeth to prevent movements and maximise irritations and discomforts, Invisalign are a popular choice. The fact that Invisalign products are clear makes the process of straightening teeth extra suitable for those who would like to keep the natural look of their smile.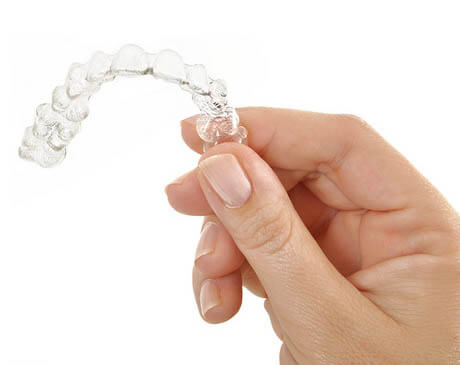 What's the Difference Between Invisalign and Braces?
Invisalign consists of different sized aligners you can take on and off of your teeth, whereas braces consist of brackets and wires that are attached to the teeth and cannot be removed throughout the duration of treatment.
Having the ability to remove Invisalign aligners is one aspect that makes Invisalign so popular as you aren't restricted with what you eat (as you are with traditional braces). However, it is important to remember that you should always brush your teeth before reinserting your aligners into your mouth. This helps you maintain fresh breath and proper hygiene and avoids your aligner from becoming stained or damaged in any way.
Clear Aligners vs Braces
Straighten your teeth without the need for wires.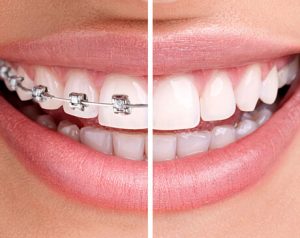 Benefits of Invisalign
As with any dental treatment, you should consult with your dentist to discuss the best options for you based upon your requirements. However, that being said, Invisalign offers numerous advantages over traditional braces, including:
Improved Appearance and Discreet Treatment: If you're getting braces in later life or you simply just want a discreet treatment option, Invisalign ensures those around you won't see a mouth full of metal every time you smile.
Minimal Discomfort with Custom-made Aligners: Invisalign aligners are made specifically to suit your mouth and that means you experience minimal discomfort during the day. While Invisalign can feel uncomfortable at first, most patients find them more comfortable to wear than metal braces.
No Interference with Daily Activities: One of the best benefits of Invisalign braces is that they don't interfere with your daily activities. You can remove them when you're eating and brushing your teeth to avoid any discomfort. They are easy to use and more patient-friendly. The fact that Invisalign are removable provides the extra convenience that patients require.
Minimum Chances of Gum and Mouth Irritations: Sometimes, metal braces can cause abrasions and make eating painful. However, with Invisalign, you don't have that problem. Easily removable, Invisalign aligners can be removed when patients are eating and drinking so that teeth can be properly cleaned to reduce the chances of gum and mouth irritations.
How Does Invisalign Compare to Traditional Braces?
Invisalign treatment is designed for maximum effectiveness in straightening teeth, while taking into consideration the comfort and confidence of the patient. Invisalign are removable, allowing for the patient to comfortably eat, brush, and floss without having to worry. Invisalign aligners are comfortable for patients to wear and you will also be set regular appointments to help monitor your progress.
How Invisalign Aligners are Made
Invisalign aligners are made using 3D imaging technology that helps transform your bite impressions into a series of custom-made aligners. There can be as many as 48 aligners or as few as 12 aligners, depending on your treatment requirements. However, each aligner helps straighten your teeth a little bit more until you have a mouth full of brilliantly straight teeth.
What Problems Can Invisalign Fix?
Invisalign can fix a number of tooth problems, including the following common issues.
Crowded and crooked teeth.
Gaps between the teeth.
Overbite – where the upper teeth stick out excessively and overlap the lower teeth.
Under-bite – where the bottom row of teeth are forced outwards and do not meet with the top row of teeth.
Cross-bite – where the upper teeth bite on the inside of the lower teeth, causing discomfort and pain.
Although Invisalign can fix numerous dental problems, if your teeth are very misaligned and your oral struggles extensive, your dentist may advise a different course of treatment. However, for the above problems Invisalign helps straighten your teeth and provide the you with a beautifully straight smile.
Can Anyone Get Invisalign?
Invisalign is an option available to most people, depending on your dental situation. While Invisalign is a teeth correcting option open to many people, it's not always the most suitable solution for everyone. For example, while Invisalign can correct crooked or misaligned teeth, it will not be able to successfully line up your top and bottom jaws if they are seriously misaligned.
If you know you want Invisalign treatment but you're not sure whether it's the right option for you, book a dental appointment today. Our experts can look over your teeth and assess your needs. It may be that your oral health and tooth positioning is not right for Invisalign treatment.
Is Invisalign Right for Me?
Invisalign is a great option for many people and in most instances, it will work very effectively. However, for patients in need of severe straightening or re-spacing, traditional braces may be a more preferable option. If you want to know whether Invisalign is the right choice, your dentist will be able to advise you on the best dental treatments for you.
We work hard to customise a dental care plan suited to you. From the minute you walk into our clinic, you will receive the best treatment we have to offer. Our dental specialists will support you every step of the way through your treatment, ensuring you understand how your dental plan and how it has been customised specially to you.
"Dimitri, Jen and the team at Hove Dental Clinic started looking after my teeth a year ago. Since then I have had cause to be grateful to them for their effortless brand of professionalism. One mended crown and one filling later I know I'm in very good hands. If you are looking for expert consultation, thoughtful advice, and gentle implementation, look no further."

Treatments
• Cosmetic
• Restorative
• Teeth Straigntening
• Implants
• Preventative
Opening Hours
Monday: 08:30 - 18:00
Tuesday:

08:30 - 18:00
Wednesday: 08:30 - 18:00
Thursday:

08:30 - 18:00
Friday: 08:30 - 18:00
Saturday: By Appointment
Sunday: Closed