The cost of a dental crown (also known as a tooth cap) depends on a number of factors, including the reason the crown is needed (accident, injury, decay, poorly installed previous crown etc). The type of crown also affects cost, as does the dentist's pricings (or the NHS). Below we have answered some of the most common questions on dental crowns and what affects their costs.
How much do dental crowns cost in the UK?
Without proper assessment and not knowing the type of crown that needs to be fitted, it's difficult to provide an accurate cost. However, averaging the above, you can expect to pay within the region of £600 – 800. This covers the full treatment, from the initial consultation to the completed procedure.
Other common dental crown questions
---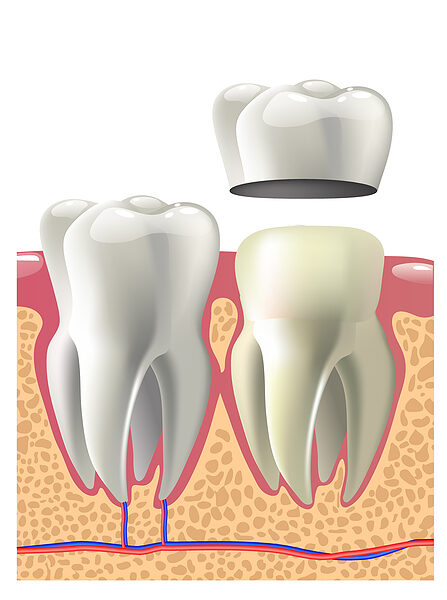 What are the benefits of having a crown fitted?
Dental crowns are able to protect and support and provide further protection to teeth that have suffered injury, trauma or decay.
They are used to preserve your natural tooth, or what remains of your natural tooth. There are several different types of tooth crown, some designed purely for durability (metal-based crowns), others for aesthetics (porcelain) and some combine both (porcelain-fused-to-metal crowns).
Can a dental crown be placed on both front teeth and back teeth?
Yes, dental crowns can be moulded to fit any tooth. An impression of your tooth is taken and a crown is created to restore it to its former structure and appearance.
What is the cheapest crown for a tooth?
The cost of tooth crowns depends on a few factors, including the type of crown you opt for. In most cases, the cheapest tooth crowns are made from stainless steel or other fully-metal dental crowns. Stainless steel crowns can range from £200 to £300 (not including the procedure or any associated treatment costs).
What is the most expensive dental crown?
In contrast, the most expensive dental crowns are those made from metals and porcelain-fused-to-metal crowns. The latter, as the name suggests, are made from a mixture of metal and porcelain; combining the natural aesthetics of porcelain and the durability of metal for a long-lasting dental crown. PFM crowns can cost between £700 – £1,000.
How long do dental crowns last?
Dental crowns can last a lifetime if proper oral hygiene is followed and the crown is properly fitted to ensure no bacteria can enter. However, they are not necessarily designed to last a lifetime, with most dental crowns lasting between 5 to 20 years (depending on several factors). Learn more on how long each dental crown type lasts.
Is it worth getting a tooth crown?
Yes, it is worth getting a tooth crown if you fall into the following categories:
If you have recently injured your tooth through accident or injury
You notice decay
A previous implant has been poorly placed
Your implant has come loose
You have recently had a root canal procedure
We always advise that you visit your dentist if any of the above applies to you, to ensure you are able to receive the correct dental advice and care.
How much does a dental crown cost in the UK privately?
Private charges are always more than receiving dental crown treatment through the NHS. Again, the prices for dental crowns through private dentistry vary depending on the practices' costs. At Hove Dental Clinic, our dental crown costs start at £725 but this includes the full treatment, crown and consultation. For more information, please contact our clinic.
How much does a porcelain crown cost in the UK?
The average cost for a porcelain crown in the UK costs between £650 and £800 depending on the practice you opt for. NHS prices are almost always lower, but queues and waiting times are typically very long for porcelain crowns.
What is the difference between NHS crowns and private crowns?
Having a dental crown procedure performed through the NHS will almost always cost less than a private clinic. The only major difference between NHS crown treatment and private treatment is the waiting times. With NHS dental charges, there is typically a long waiting list for certain dental procedures, the main reason being it's cheaper than opting for private treatment. Private clinics are typically more expensive but you won't have to wait for treatment.
Does Hove Dental Clinic offer finance options?
We do offer a practice plan as well as a Denplan membership. Below are the main benefits you will receive when you sign up to our practice plan:
Preventative and oral hygiene advice
10% discount on all other treatments
1 year guarantee on all other restorations
5 year guarantee on all ceramic restorations
Free implant assessments
Plans start from as little as £15 per month for our level one membership with our Practice Plan.
Alternatively, explore our Denplan service.
For all dental crown-related procedures
Hopefully, our FAQs have helped you understand more about dental crown costs in the UK and whether undergoing treatment is the right course of action for you. If you would like to book a checkup or an assessment for a dental crown or any other dental work, please contact our clinic today either by calling direct or completing our contact form.
---
Book an appointment today